New Chaco Documentaries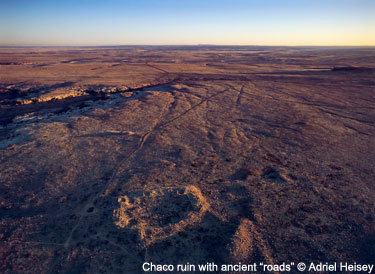 "Written on the Landscape: Mysteries Beyond Chaco Canyon" will convey to millions of viewers the brilliant achievements of the Chaco civilization -- many of which are in grave danger today. The one-hour documentary, now in progress, will reveal the astounding reach of the Chacoans across a region of the American southwest nearly twice the size of Ireland. Without modern tools, wheel or beast of burden, these ancient people built ceremonial Great Houses and connected them to places of spiritual power with massive "roads," remarkably straight and as wide as modern two lane streets. Inspired engineers and laborers achieved feats equal to the other archaeological wonders of the ancient world. But those of the Chacoans have been long obscured in a fragile desert environment -- only now to be recovered through beautiful aerial footage (shot in perfect slanting sunset light by Adriel Heisey) and with the new technology of lidar (aerial laser scanning) revealing the true expanse of the Chacoan's complex world.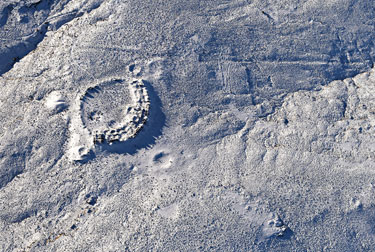 We will take the audience on an exciting exploration of the minds and inspirations of this remarkable culture driven by religion and cosmology. As scholars of the sky, they made their center at Chaco Canyon a place that joined the cycles of the sun and moon and unified the people in a huge reach across one of the most challenging environments of the world. The people emerge from 1,000 years ago through the insights of archaeologists and the poetic words descendant Native Americans who have cultural affiliation with Chaco. This same capability to be deeply attuned with the natural environment is still with us today. We can awaken to these capacities through experiencing the finely constructed works of those who came before us.
The Sun Dagger and The Mystery of Chaco Canyon, our two previous PBS programs narrated by Robert Redford, have been enjoyed by millions of viewers. Audience ratings for The Mystery of Chaco Canyon have equaled those of Masterpiece Theatre and NOVA. We are very excited to be nearing completion of the third film of this trilogy. The new film will be narrated by Robert Redford and broadcast by PBS.
The Solstice Project is a non-profit organization dedicated to research, education and protection of Chaco culture. Please consider making a tax-deductible contribution to support our ongoing work.